My daughter Caitlin Anais is graduating from college in March 2014. Like me and her dad, she is a Thomasian.
In my previous blogs (please click on the links below), I shared that we didn't have a hand in choosing the course or university for Cae. It was a bonus that she fell in love with UST on her first visit and it was where she was accepted for the course that she wanted – Travel Management. Even if I was secretly wishing and hoping and praying she would take up AB, I didn't object to her course choice. On top of the entrance exam, she had to hurdle a panel interview and a sort of go-see or casting as the students have to have a certain look or built (look at the smart-looking blue and green uniform below). It was her who made the decision.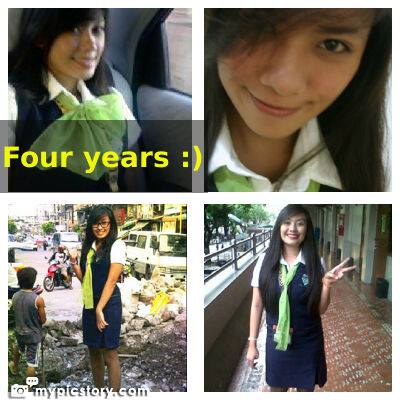 Which was for the best, as it turned out. My daughter has been getting good grades, and she was on the Dean's List for a while - something I was not able to do when I was in college. What she accomplished during her first 2 years in UST-CTHM surpassed what I did during my four-year stay in UST. Above all, she is having the time of her life. I find her block mates kind, polite, and hard-working. The girls are so beautiful. The boys are cuties, dependable, and very trustworthy. Atnd they know how to have fun. Proof of this is when they staged their own event "Silhouette: A Glint in the Dark (The Search for the Next Miss Tourism Ambassadress 2012)" when they were in 3rd Year. I was impressed.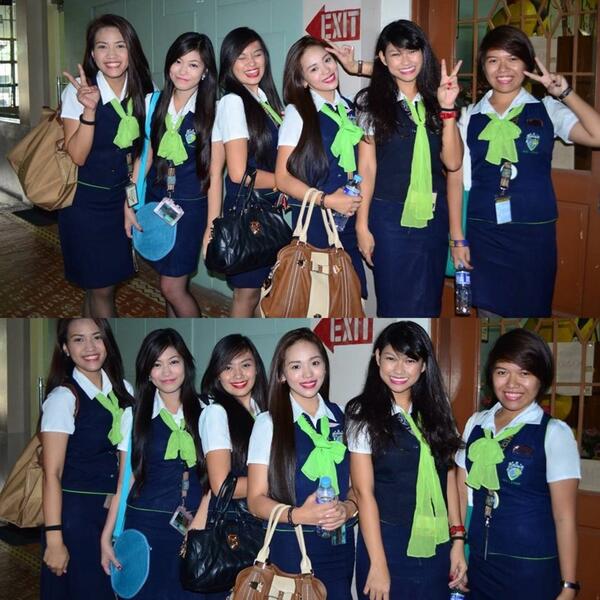 Writer C. JoyBell C. said, "I think that the best thing we can do for our children is to allow them to do things for themselves, allow them to be strong, allow them to experience life on their own terms, allow them to take the subway...let them be better people, let them believe more in themselves."
I want to believe that this is what we are/were doing with Cae. Travel Management is unlike Nursing, Pre-Med, Accounting or other courses which parents would approve of. Or would choose for their own children.
"Ano yan, Tourism? Walang pera sa Tourism." But that's what she likes. Hindi naman kami or sila ang mag-aaral at papasok but Cae. So we gave her that opportunity.
Magastos ang Tourism. Oh yes. You bet. But it is our duty as parents to support her financially. So let it be our problem. So far, she has been to Cebu, Bohol, and South Korea.
I was in Grade 4 or 5 when I decided I would take up Journalism. Looking back now, I couldn't have made a better choice for myself. Even though I didn't end up in TV or print, I am happy with my job and how the Journ discipline has helped me through the years. When I took up a mini-MBA course at the Arrneow (Ateneo Graduate School of Business - CCE), I realized that:
· I wasn't cut out for a business course, and an MBA is definitely not for me.
· I can do analysis but please do the computation for me. I was kamote in Accounting or numbers.
· I f I took up a course other than AB or Journalism for that matter, I wouldn't have survived, I might have gotten some failing grades.
So in one way or another, I was telling Alex that parents really should not be meddling and choosing courses for their children. And that it was a blessing that we allowed Cae to take up the course she liked.
What you like to do or what/where you are good at can spell the difference. It cannot be "just because." Just because you think a business course is better or just because a popular / quota course will assure you of a job does not equate to excelling or being good in class. You have to have "it." You have to be good in it. Pag hindi mo talaga forte, mahirap. Pag hindi mo gusto, mahirap pilitin ang sarili. (Eto naman po is just my humble opinion as a parent. Libre naman magkaroon ng sariling opinion. If you don't agree, spin a win.)
It seems like only yesterday when Cae was a freshie, and now she's on her fourth year - Thesis this sem, and OJT next sem. By God's grace, all will be well.
#GoUSTe (maisingit lang)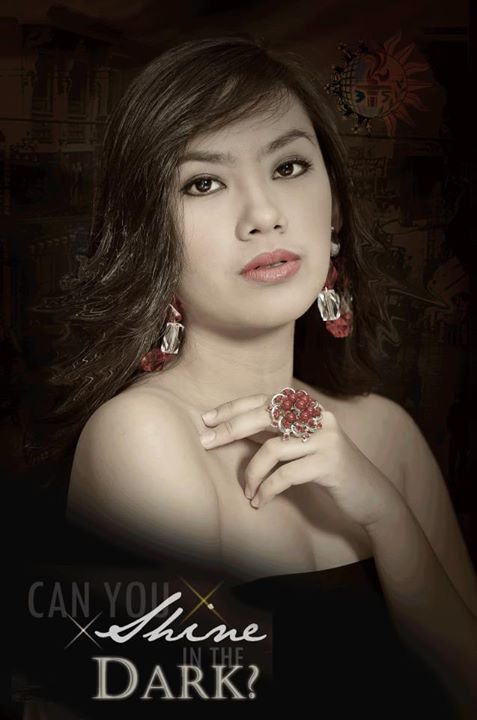 For more details on Travel Management, please visit http://www.ust.edu.ph/index.php/undergraduate-programs/34-bachelor-of-science-in-tourism.html
Read my previous blogs:
Senior Moment http://pamski71.bravejournal.com/entry/31819
My Girl's Gonna' Growl Soon! http://thegoodgirl.braveblog.com/entry/95213
Blue Genes (and black and gold, too) http://thegoodgirl.braveblog.com/entry/114245