I just read an online article which reminded spouses that when things get rough, you just have to go back to the day you first fell in love with your partner, or think of the things why you chose him among the rest. And why you are holding on to that decision.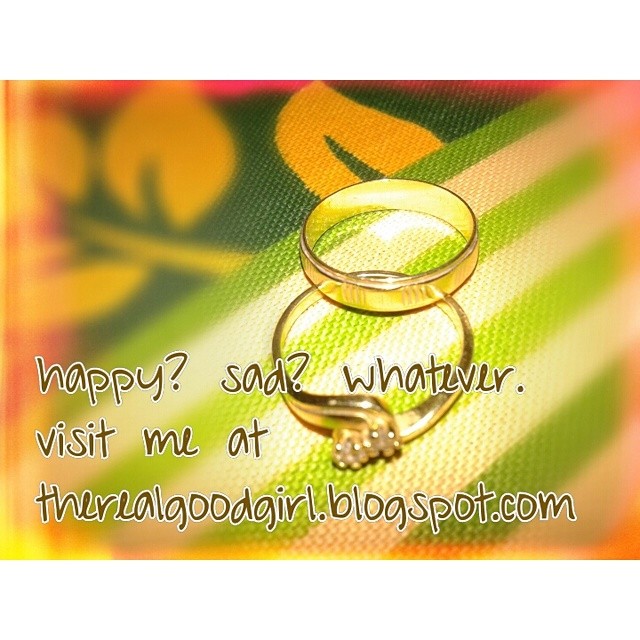 Twenty two years is a long time. Alex and I have gone through A LOT. We've had tough and reckless years in the past but we have forgiven each other, made our peace and re-created our life together. Good thing that I keep journals and writings about our relationship, especially when it's our anniversary (we don't celebrate our civil or church wedding anniversary, but the day when we became a couple which was on April 3, 1992 - and today is our monthsarry, thus this blog). Writing about us each year gives me a reason and an opportunity to look back and reflect on what has become of us. Whenever I feel sad, I just re-read my blog entries to remind me of why, when and how I fell in love with him. This way, I would focus on the positive, on the ups and the highs, on the joys and thrills.
He and I don't fight anymore, and there are things that we have given up and have not been doing. There are things we both love, yet we still have our own interests, passions, addictions. There are things that we do together, and there are things we don't have to do together. I can be by myself or be with friends. And he can be by himself, or be with his friends. We're steady, we're calm, we're cool. We don't have to talk a lot, sometimes we just send body signals. Most of the time, we don't even have to say anything at all. We just understand each other. He has chosen me and I, him. And that's it.
Whenever someone asks me why I don't drive (anymore), I just say it's because of my poor eyesight (even if I wear contacts) and I find it hard to drive when it's dark or raining. Sometimes I say it's because I don't need to, I have Alex anyway. And whenever the issue of having or maintaining two cars comes up, I just say it's expensive. We've tried that before. But the truth is (and until now, I haven't confessed or said this thing, except for 2 persons), I want to need my husband. I need to need him. There was a time when we each had a car, and we lived our lives separately. He had his friends and gimmicks, and I had mine. Our marriage and relationship suffered that I don't want it to happen again. I don't want to experience again the time when I didn't need him. Driving is the only thing I cannot (or won't) do now – the rest, I can. And if I can do that one thing, I wouldn't need him anymore. I need my husband in my life. I hope you're catching my drift.
In my last blog, I wrote that "Sometimes, some of the truest things are not seen, shown or said." Maybe I haven't been showing or telling my husband that I love him, or maybe you don't see that. But the truth is out there – he will always be my one true love.